Community group guides: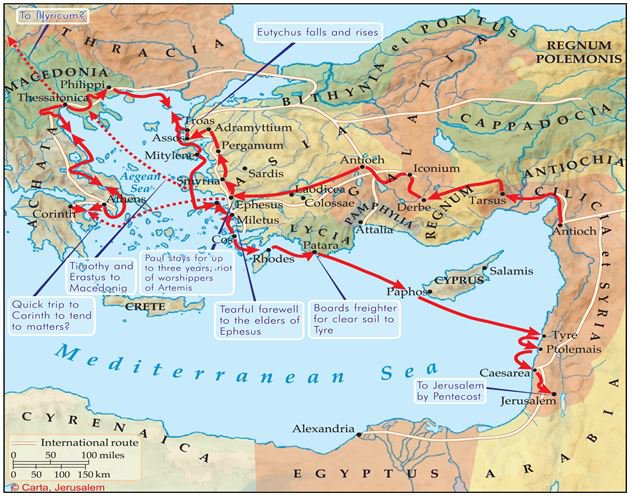 Week 8: June 4-10
Acts 20:17-38
"Paul and the Ephesian Elders"
Summary:
Paul calls the Ephesian Elders to Miletus where he shares a final message with them about life and ministry.
Outline:
I. An Overview of the Story
The Calling of the Elders (vv. 17-18)
The Charge to the Elders (vv. 18-35)
The Compassion of the Elders (vv. 36-38)
II. An Observation of Paul's Message - Pay Attention to:
Your Behavior
Your Beliefs
My Story
1. As a Christian, what would you like your legacy to be, in your family, church, and community? How are you working toward that end?
2. Think about ministries that you are involved in. How do Paul's priorities in this text shape your priorities in those ministries?
3. What impacted you or stood out to you the most in the sermon this week?
Digging Deeper
1. Read Acts 20:17-25. In what ways did Paul demonstrate his love for the Ephesian church? What most resonates with you about the way that Paul served the church? What did Paul know about the things that will happen to him in Jerusalem? How did he feel about that? How can you apply verses 22-24 to your own life?
2. Read Acts 20:26-31. What does Paul mean by "the whole counsel of God?" Why does he connect his innocence of blood to declaring the whole counsel of God? How did Jesus make the church His? In what ways does Paul instruct the elders to watch over or guard the flock? Why is this important? How can the church defend itself from wolves?
3. Read Acts 20:32-38. How is verse 32 a word of comfort and assurance? What can we learn from Paul in verses 34 and 35? How did Paul conclude his speech to them in verse 36?
4. What questions, if any, does this week's passage raise for you that haven't been addressed in this guide?
Our Spring Session will kick off on Sunday, April, 16, 2023 and will run for 10 weeks concluding the week of June 24, 2023.
Below is the list of groups that will be gathering this Spring Session. Please take a moment to register for a group!
WEC Community Groups, Spring Session 2023
Jeff & Alice Chown - Gathers via Zoom on Sunday evenings at 6pm.
Jeff & Tracy Cioppa - Gathers at the church on Sunday evenings at 6:30pm.
Jacob & Devon Farler and Noah & Erin Shaffer - Gathers at the Shaffer's home (Windsor Oaks West, VB) Sunday afternoons at 12:15pm.
Matt & Katielynne Gay - Gathers at their home (Chesapeake) Friday evenings at 7pm.
Drew & Meghan Knofczynski - Gathers at their home (Haygood, VB) Friday evenings at 6:30pm.
Tim & Amanda Parsons - Gathers at their home (Indian Lake, VB) on Friday evenings at 6:30pm.
Adam & Krystal Rastetter - Gathers at the church on Friday evenings at 6:30pm.
Steve & Lisa Roby - Gathers at their home (Birchwood Gardens, VB) on Friday evenings at 6:30pm.